Welcome to
With Miss Carney
Welcome to our new children and families!
This Autumn term out topic is Autumn at School. Please visit this class page each week to find out what we are doing in class and how to help your child with their Home Learning.
Please make sure you have registered for School Ping to receive all school letters and our class newsletter.
Important Notice: The following pages contain links to websites that we feel are supportive to the curriculum and safe but it must be noted that the contents of the websites are out of our control. Therefore, we recommend that parents check them before allowing children unsupervised access. Remember to stay safe online!
READING BOOKS
Children should read a book at home with an adult EVERY day. Please click on the link herehttps://www.oxfordowl.co.uk/for-home/find-a-book/library-page?= to read a reading book together with Oxford Owl.
Oxford Owl are offering access to an e-library of their reading books free of charge.
Parents will be able to select the books specified on this page by registering on-line.
All books are tablet friendly.
For week commencing 14/09/20 ALL children in Campbell class should read every day with their adult this book –
Also all children should regularly practice the phonic (letter) sounds and words on the sounds and word mats – access these by clicking on the red Phonics Page link below to find phase 2 phonics/word mats.
PHONICS
From week commencing 14/09/20 all Campbell class children should practice the sounds for s,a, t.
Listen to the Jolly Phonics songs here for these letter sounds. Also click here and here and here to join in with Geraldine Giraffe as she learns her letter sounds.
WRITING
Please practise handwriting regularly. The formation of the letters should be in a cursive style as illustrated below. Help your child to hold their pencil correctly in a tripod grip if they are not already doing so.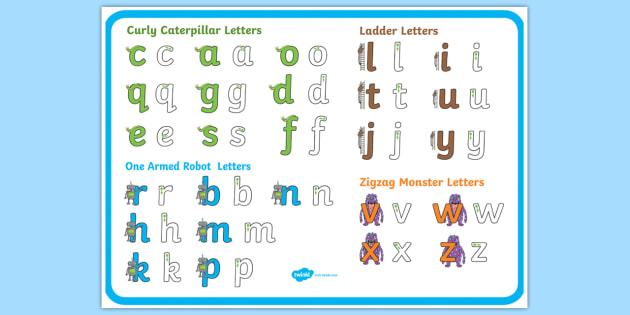 Children should only use capital letters at the beginning of sentences or the names of people/places. Children should not be using capital letters to write complete words – this is printing, not handwriting.
Drawing also develops good pencil control as does colouring-in. How are your child's drawings developing?
Scissor skills are also important. Encourage your child to cut out pictures from newspapers/magazines, or their own drawings, using safe children's scissors.
For further ideas/help with Reading and Phonics
Visit this website for free access to thousands of online books. Try the monster counting book and see what else you discover!
National Literacy Trust http://www.literacytrust.org.uk./
For more story times, games and activities visit the book trust page here.
BBC Bitesize have activities across age ranges and the curriculum https://www.bbc.co.uk/bitesize/primary
The CBeebies website – https://www.bbc.co.uk contains useful games and activities for Home Learning, for example, Alphablocks and Number Jacks. The Topics area also contains interesting material and the Make and Colour area provides ideas for craft activities. Literacy and numeracy activities can also be found on www.phonicsplay.co.uk and www.topmarks.co.uk.
BBC Bitesize have activities across age ranges and the curriculum https://www.bbc.co.uk/bitesize/primaryThe Government website Hungry Little Minds – https://hungrylittleminds.campaign.gov.uk also has useful links and ideas for Home Learning, as does our St Georges School website.
The Government have produced an online learning platform for all ages and subjects. Click on the image to go to the Reception lessons. This page has lessons structured for each day weekly or you can search by subject and age range for a particular lesson you might want to do with your child.
Resources for Emotional and Physical Well-Being
You may find this website useful when talking to your children about Covid 19.
https://www.mindheart.co/descargables
For support with setting rules at home, managing behaviour and children's emotional health visit http://www.familylinks.org.uk/