Letters and Sounds Cafe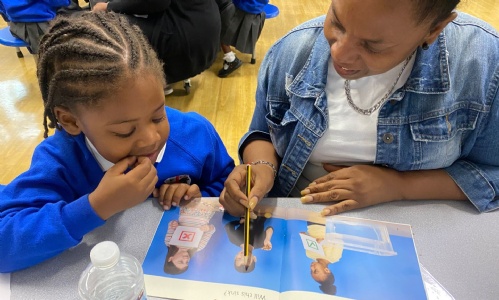 Phonics, reading, community, and biscuits: what a fantastic turn out for our phonics cafe!
At St George's, our curriculum vision for English is:
Be a reader. Be a writer. Be a communicator.
This week, we asked our community to focus on how we can ensure pupils can all 'Be a reader'.
On Wednesday, all families in Reception and Year 1 were invited to our Letters and Sounds cafe, led by Mrs King, who leads early reading and language development at St George's.
A big thank you to everyone who attended. On the day, our community learned how we teach phonics whilst having a drink of squash and a biscuit or two.
It was fantastic seeing families put their new knowledge into action at the end of the cafe session, when we invited pupils in to read with their families.
We look forward to the next cafe session!