Remembrance Day 2021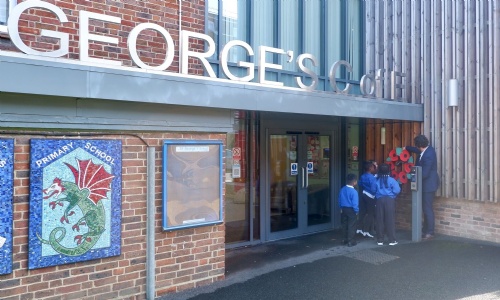 This Thursday, the whole school came together at 11 o'clock to remember those who have given their lives for us in service.
This has been a week of Remembrance for us at St. George's.
On Monday's whole school worship, Mr Janes introduced the theme of Remembrance to the school. We learned what poppies symbolise and why.
On Tuesday, Ms MacAlpine spoke to the school about remembering individual soldiers. She introduced us to a soldier called Walter Tull, who was mixed race and fought for Britain in World War I, as well as being a professional footballer.
Across the week, the faith group and some very helpful volunteers have been busy creating two special poppy wreaths. One is now decorating our hall and the second was hung by the faith team just outside reception.
On Thursday, Remembrance Day, we all came together as a school at 11 o'clock to observe the two minutes silence.
The silence was impeccably observed and we were so proud of the pupils.
Our Year 6 readers spoke bravely and profoundly in front of the whole school too and received a spontaneous round of applause.
Have a look below to see how we got on.