Phenomenal Physical Features!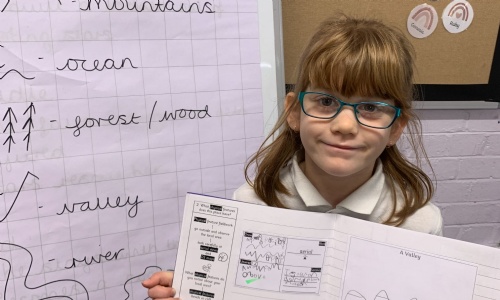 Year 2 have been learning all about physical features in our local area during our geography lesson this week!
Returning to our work from last half-term on human and physical features in geography, we reflected on our previous learning and thought about physical features that we already knew about. We knew that a physical feature was something naturally occurring, such as a mountain, river or ocean.
When we had complied our list, we thought about physical features in our local area. We were curious as we searched maps of our local area for places like forests, woodlands or rivers that we could see. Our key word 'aerial' was important here, as it helped us describe what our map was showing us and where we were looking at our local area from.
Being curious explorers, we unpacked the word aerial, and understood that it means, 'a view from above'. Through discussion, we thought about how amazing it was that we could see everything in our local area from a new viewpoint!
Be an explorer - Be global - Be outdoors
Once we had established our understanding of physical features, we learnt about a new feature- valleys. We explored pictures and videos of different valleys and reflected on why they often have a river running through them. We then drew and labelled our own valleys from our research to help us further reflect next lesson.
Finally, we learnt another key word- vegetation! We looked at all types of vegetation in our local area and uncovered lots of new ideas for us to draw in our books! We were amazed at the range of vegetation just in our school. We're excited to find more examples on our walks home from school!