Bears, Balancing and Nature walks in Nursery!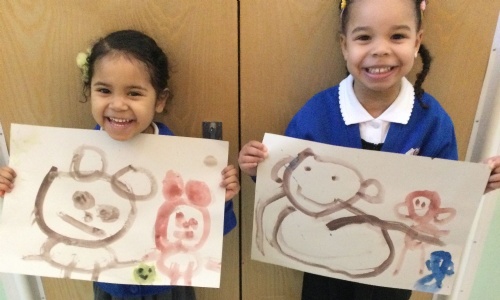 Although we have been back in nursery for only a couple of days, the children have been very busy starting work on their new topic: 'Bears'.
Our Early Years vision statement at St. George's is:
Be an explorer - Be a trier - Be a talker - Be a creator.
This week there has been plenty of exploring, trying, talking and creating!
We have re-visited a favourite nursery Bear Book - 'Goldilocks and the Three Bears'.
Work is underway setting up our Bear House and the nursery children have had to do lots of hunting for suitable furniture - measuring and comparing to make sure each bear has the appropriate chair, bed, spoon or bowl.
Next week, we will continue this topic work with Nick Sharratt's 'Three Bears' - a modern spin on a traditional tale with Goldilocks wearing her hair 'in funky dreadlocks style'. We will also be making - and eating - some delicious porridge!
Our scientific work investigating the changing seasons continued with a Winter Walk - closely examining the magical frost covering our outside area.
And finally, the children have been exhibiting their growing levels of that St George's Learner Quality 'Persist' - with Kwadjo in particular determined to master the balancing beams. Well done Kwadjo!