Terrific Trinidad!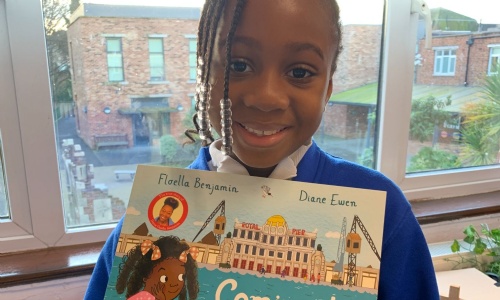 This week, Benjamin class have had an amazing time writing non-chronological reports all about the country of Trinidad!
Inspired by our new class name- the author of our class read 'Coming to England'- Benjamin Class were excited to explore the country where Floella Benjamin was born. Using our fantastic model text, we used all the information we had learned to create our own non-chronological reports about Trinidad.
Be a reader.
Be a writer.
Be a communicator.
Benjamin Class were keen to use our knew knowledge in our writing, including subordinate conjunctions, statement sentences and question sentences. We wondered whether people had considered how beautiful Trinidad's beaches were. We were curious to know if anyone understood the history of Trinidad. We were determined to help people understand the rich diversity of wildlife that lives in Trinidad's lush forests.
We knew that adjectives were also important, and so we used words from our vocabulary list, as well as adjectives that we already knew to make sure that our writing was captivating and interesting to read.
What do you think? Would you like to visit Trinidad after reading our non-chronological reports?