St George's School Library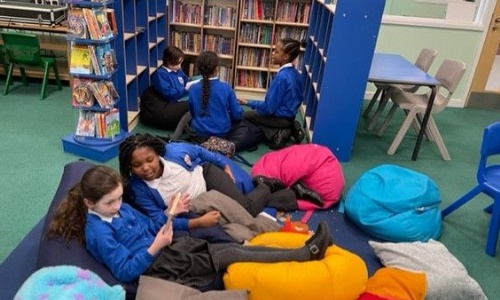 We are very lucky to have a dedicated library space within our school. We are ambitious for all children to be readers and have a love of books and reading.
The School Library
We are very lucky to have a dedicated library space within our school. Our books support the current school curriculum and our collection includes:
Picture/Board books
Early readers
Non-Fiction books
Poetry
Plays
Chapter books
Future Plans
School Council representatives have spoken to each class and know that there is a call from our pupils to have more access to our whole school library. In response, we have made the following future plans!
Introducing Librarians. Book loving children who want to help develop our school library will learn about running the library. They will issue books, organise the library shelves and help select books to purchase.
Book Buddies – Introduce more opportunities for older children to read with younger children.
Library After School Club – An opportunity for children to use the library after school. They will hear a member of staff read a story, enjoy books together and use the library for research.
We will of course be adding to our library collection over time. We are already investing money to grow our library, but here's how you can help.
Suggest a book. If you have read a book that you thought was amazing and should be in the school library, then please tell us about it! The library belongs to all of us and we want you to be involved.
Donate a book. We will happily accept any good quality books. They do not need to be brand new, but should be in good condition.
Make a donation. If you are an individual or business who could help St George's to promote a love of reading and boost our children's literacy skills, please do get in touch.