Stiff Starch Art!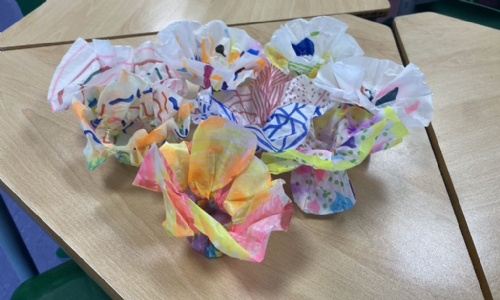 Year 6 have been using starch to stiffen up their art game!
In Best Class this week, we have been continuing our modelling project.
This week we have moved into the world of starch and asymmetrical balance. This is when there are different visual images or colours on either side of a design, but the image is still balanced. Our artist focus is still Dale Chihuly; we are using his glass flowers as inspiration.
We used coffee filter papers to design an asymmetrical pattern using fabric pens that would bleed as we added a liquid. We then used an elastic band to secure this to a cup. We sprayed the filter paper with a starch mix to stiffen it into a biomorphic shape of a flower.
We cannot wait to pull all of our recent modelling into a finished display piece, one that will rival Dale Chihuly himself!
We achieved this while following the curriculum vision:
Be creative. Be proficient. Be reflective.
Enjoy some of our photos of the process below!