PGL: Bravery at its best!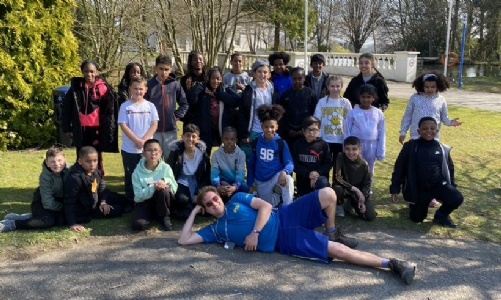 Year 5 and 6 went to Windmill Hill (PGL) for their residential!
On Monday, a group of Year 5 and 6 children went to Windmill Hill, in East Sussex, to test their bravery and teamwork skills. They took part in a range of fantastic activities, from abseiling to building a raft and testing it on a lake.
On the Monday, we took a coach down to the centre. When we arrived we had an alfresco lunch on the lawn. We then went into our first activities; we started on the assault course, testing balance and supporting each other over, under and through the course. We then tested the nerves of steel on the 'Giant Swing'. Children strapped into a harness and were attached to a metal beam. The rest of the group winched them up by pulling on a set of pulleys and levers. The children on the swing then pulled the safety cord and swung from around 15m... it was a really scary height!
We had dinner in the evening, the food critics gave them a raving review and were excited for more. After this, we did the evening activity, playing a range of sports. We also had our first room inspection, keeping our room tidy was a priority and a good learning opportunity.
Tuesday morning, we had breakfast nice and early, lots of 'full-Englishes' were had. The morning's activities were raft building and testing them on the lake. There were a lot of chattering teeth as the lake wasn't too warm! We then went onto abseiling, the fear of heights was real! Children pushed themselves and at least got to the top of the tower. The bravest managed to descend the tower. As reward, we had another great lunch.
In the afternoon, we had climbing. We clambered up to the point we felt comfortable - some making it to the top! We also did orienteering round part of the site. We are glad to say no one got lost!
Dinner was fantastic again, and with our bellies full, darkness descended, and we set out on a game of stealth. We had to track half of the group, who went out to hide, following a set of cones. When they came we had to jump out and ambush them before they saw us.
On the last day, we filled up on more scrumptious food and set out on the morning activities. We were in the harnesses again for 'All Aboard' - a game where they had to reach the top of a single wooden pole with a platform. Finally, we had problem solving. We had to think outside the box on a range of game; some of us became very frustrated, but we managed to persevere with the St George's growth-mindset!
We took the trip with the school vision in our mind of:
Be Brave. Be Great. Be You.
We certainly were all of these!