Enterprising traffic engineers!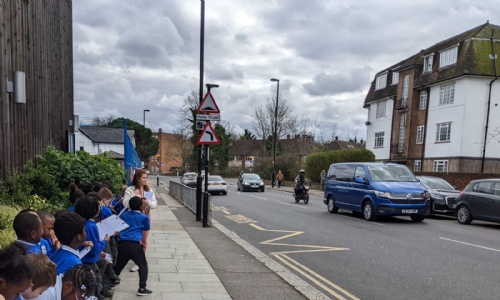 Last week, Year 1 and Year 2 joined together for British Science Week 2022 to look at the impact of traffic going past our school and engineer ways to improve our local environment.
Our Science Vision is:
Be academic
Be curious
Be practical
First, we conducted a survey on how we each got to school and represented our data in a pictogram and a tally chart. We concluded that the way most people come to school is by walking. Then, the children used the data collection skills we had just learnt to survey the road outside our school, Perry Vale, to find out which means of transport was used most.
We found that travelling by car was the transport type with an overwhelming majority! Having reflected on this, and the impact on our environment, we designed a new road that would encourage more people to walk, cycle and scoot, rather than drive. Together, we came up with creative, eco-friendly ideas such as water stations, comfortable benches, healthy snack stalls and animal crossings as well as lots of plant life. Take a look at our road designs!