Ground, Air, Water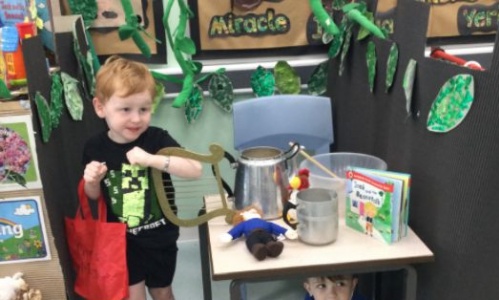 The new Summer Term topic in Nursery is: Ground, Air, Water.
Work on our new topic is well underway in the nursery. As part of our work on Ground, Air, Water the nursery children have been learning all about the story of Jack and the Beanstalk and having lots of fun with activities linked to this story.
We have been busy planting beans in our vegetable bed (carrots and radishes too!). Our watering has already paid off - Kwadwo was the first to spot that our seedlings have already begun to appear.
Meanwhile, a Giant's Castle has appeared in our nursery - with some very scary giants with big boots, a bag of gold and a magic harp. Jack had to be very quick to hide under the giant's table!
Beans on toast appeared on the menu this week and was a big hit!
Now we are all going to grow some beans indoors in the nursery and our plan is to then send the bean plants home at half-term. We do hope you will be able to share some photos of how tall they grow on your windowsills!
Nursery have certainly been living up to our Early Years Vision:
Be an Explorer. Be a Talker. Be a Trier. Be a Creator