Brilliant Beginnings with Beegu!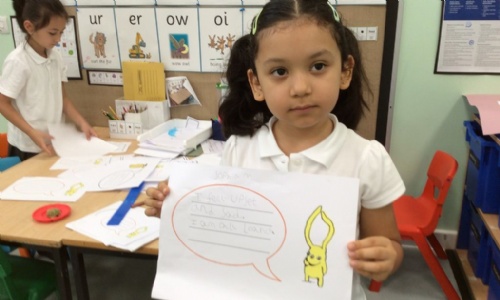 Year 1 Jemison class has begun the year with a BANG – a space ship has crashed and a mysterious, three eyed alien is lost on Earth!
At St George's we want all children to:
Be a reader.
Be a writer.
Be a communicator.
Our first core book this year is the classic 'Beegu' from Alexis Deacon. The children have been immersed in the story, taking Beegu on tours of the Space Station in our small world area, and designing a rocket to take Beegu back home in our creative area. The class has developed empathetic vocabulary, describing how Beegu must be feeling lost on Earth: lonely, nervous, scared, surprised.
We have been impressed with children taking on independent writing challenges, applying their phonics to record their ideas. Next, we are making story maps to show the beginning, middle and end of Beegu's adventure on Earth. Well done for a great start to the year everyone!