Year 6 PGL Adventure!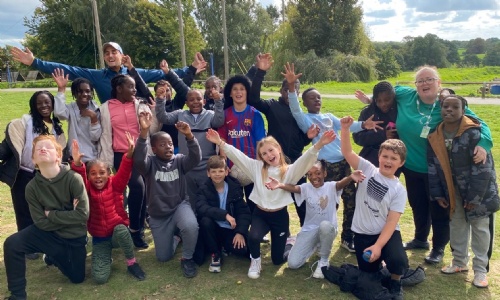 Year 6 went wild with adventure at Windmill Hill PGL!
A lifetime adventure; Year 6 took upon the first 5-day adventure to Windmill Hill PGL.
On Monday 26th September, the class set off to East Sussex, taking a smooth coach ride down. The children were greeted by our school leader, Jordi. Jordi introduced the group to the site and gave us a safety briefing. We then found our cabins and set our stuff down ready to join some team building activities. The food was incredible and saw lots of happy children full to the brim!
The week that followed pushed the children to their mental and social limits. Some scared, some fearless. The St George's pupils became known for always giving things a go and being brave! Some of the activities included abseiling, climbing, zip line, fencing and archery.
The staff all made comments on how they were the politest and friendly group of children that supported each other throughout the activities. Jordi said that he doubted he would ever get a team like them ever again; they were a credit to the school.
We hope you enjoy some of our photos and click the link to our video (coming on Monday!) from PGL!
We did this while thinking and acting out our school vision of:
Be Brave. Be Great. Be You.