Balanced diets? We have found our inner peas!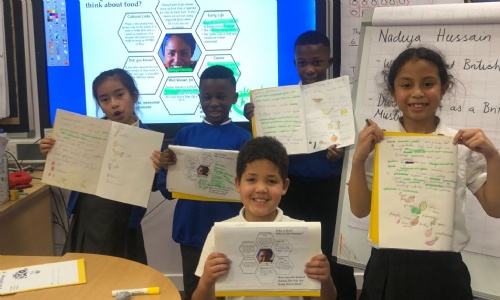 What vegetable is always cold? A chilly!
In Year 3, we have launched this half term's DT learning: What do we mean by a balanced diet?
We will endeavour to live out our curriculum vision for Design Technology:
Be innovative.
Be hands-on.
Be diagnostic.
This week's lesson has already given us the opportunity to revisit our Science learning from last term (Animals including Humans), as well as drawing and exploring a rainbow of healthy food options in preparation for our cooking later this term.
We learnt that it is healthy and sustainable to eat seasonal foods and will be learning more next week about natural preservation methods.
We were inspired by British chef and author Nadiya Hussain, who encourages all children to get creative in the kitchen! So why not take up the challenge and get cooking with us this half-term? We're rooting for you!
In the next session, pupils will be making use of our food technology suite, cooking up some healthy recipes.