Y5 Trip to the British Museum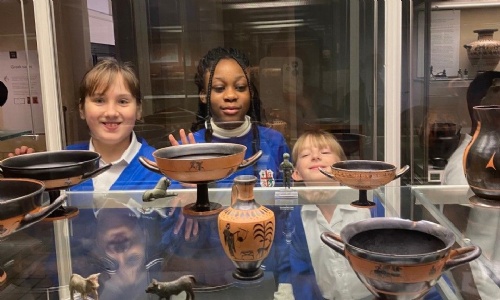 Last week, Year 5 had a great time at the British Museum!
In history, we have been studying the Ancient Greeks. We went to the British Musuem to look at the artefacts on display.
Our history vision is
Be inspired.
Be academic.
Be reasoned.
The children were certainly inspired to see the Ancient Greek pots on display and enjoyed finding the Gods, Goddesses and myth heroes painted on them. Check out the photos to see which beasts or heroes you can spot! The children were also academic when recalling their prior knowledge about the Greeks and reasoned when thinking about what the pots were used for.
We also spent time in the Parthenon gallery, learning about how Ancient Greek temples were designed and built before stopping for a much-needed lunch and rest!
Finally, we checked out the Ancient Egyptian room as the children were keen to see some real life mummies. Our class text from last term, 'Secrets of a Sun King' was based in Egypt and centred on the discovery of Tutankahmun's tomb. Check out the photo of one of the first mummified people - he was preserved in the desert sand rather than wrapped in linen! Children enjoyed this rather gruesome display, as well as learning more about the mummification process.
Thank you again to the fantastic parent volunteers who helped on this trip. We had a brilliant day and the children would love to visit again to see even more!