Diets from different cultures!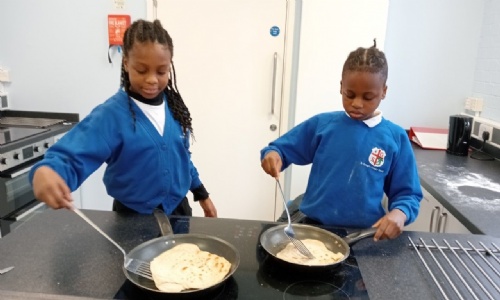 Year 5 have been working on their culinary skills in Design Technology!
Our DT topic has been 'Why are our diets so different?' Our DT vision is:
Be innovative.
Be hands-on.
Be diagnostic.
Children learnt about different types of bread from around the world and how we can make bread dishes more healthy. We also learnt about the difference between leavened and unleavened bread and kneading techniques.
Over the last two weeks, the children made Middle Eastern flatbreads served with garlic butter. They were certainly hands-on making the dough, kneading it and then cooking in a frying pan with olive oil. We all enjoyed the mix of crispy and soft bread, served warm with the yummy garlic butter - it was worth the slightly strong smelling breath after!
Children then turned their hands to the Danish Smorrebrod or open sandwich on rye bread. For many of the children, this was their first time trying rye bread which is quite different to our usual sandwich bread. We honed our cutting skills, chopping a variety of vegetables into different shapes. Children also made two types of sauce - Harissa yoghurt and Marie Rose - to drizzle on top and had to think carefully about how they presented their food. The children came up with some innovative designs!
I am sure you will agree that they did a fantastic job with both dishes. Perhaps they could have a go at making one of them at home over half-term, for families to sample!