Talk about Texture in Y5!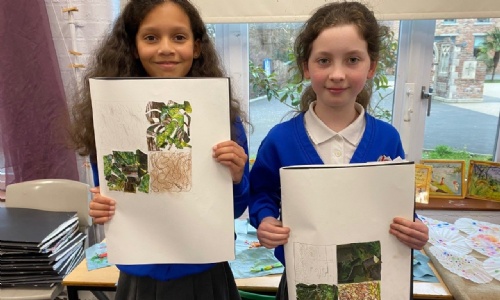 Year 5 began their collage and textiles unit this week, learning about creating different textures.
We kicked off our new art topic by looking at images of nature, particularly trees and their bark. We learnt the word texture and what this means in art, discussing how different materials can create different effects of the same images. Using four squares in our art books, we created different pictures of tree bark using sketch, cut-up paper for collage, torn paper and, finally, pastels. Our art vision is:
Be creative.
Be proficient.
Be reflective.
Children were creative when choosing which shapes to cut the images of trees into creating a bark effect. They were proficient when using sketch pencils and pastels, materials that we have used in previous units. Also, they were reflective when sharing their outcomes with the class, discussing how they had created different textures and how we could take this even further in future lessons.
Next, we will be learning how to make a loom and doing some weaving before working on our final pieces, combining textiles and collage. We are looking forward to seeing the creative outcomes! Check out the photos of children in action and the work they produced.