Y5 at Shakespeare's Globe!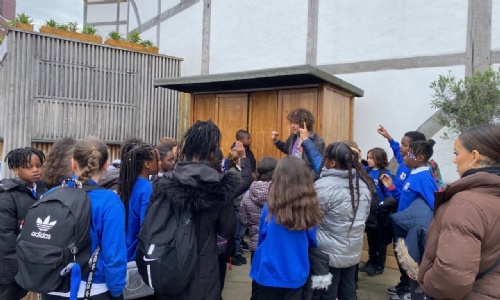 This week, Year 5 had an amazing day at the Globe Theatre.
During the Spring term, Year 5 studied an adaptation of Shakespeare's A Midsummer Night's Dream, as well as writing a synopsis of Romeo and Juliet. To see some of what we learnt in real life, we spent the day at the Globe Theatre. First, we had a tour, learning about how this version of the theatre was built in recent years, but was built as close to Shakespeare's original theatre as possible. We sat in the gallery and recalled what we knew about the open roof which gives natural light, the standing room for the 'penny stinkards', and the expensive galleries for the aristocracy. We were lucky enough to see some actors warming up for their dress rehearsal later in the day.
After the tour, we went to a rehearsal room for a drama workshop led by one of the actors at the Globe. The children had lots of fun during the warm-up games, then putting their acting skills to the test creating characters and freeze frames from A Midsummer Night's Dream. Having been great readers and writers during our learning in school, children were able to become great communicators through their acting, using their bodies and facial expressions, putting our English vision into practice.
Before heading back to school, we enjoyed our lunch by the River Thames, taking in some of the famous sights. Check out the photos of our fun day below and see if you can spot any Pucks, Oberons or Titatanias from the play!