We are TOGETHER!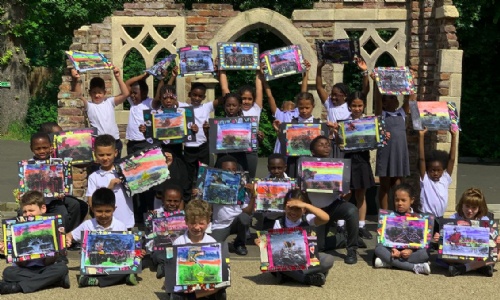 Year 3 have been busy creating a quilt to patch together in art!
Like pieces of fabric in a richly patterned quilt, each part of one's self holds its own special place in the overall picture, giving completeness to the whole.
This week, we finished our individual pieces for our class quilt: "We are TOGETHER!", in the style of African-American author, quilter and storyteller Faith Ringgold. We learnt about layering, texture, pigments, patterns, proportion, printing and colour mixing before bringing all the pieces together in our colourful quilt.
At St George's, we believe that every single one of us make us the successful, high-achieving unit that we are. This quilt celebrates how many unique, individual parts come together to make a beautiful whole. Come see it for yourselves at the St George's Celebration of Arts Festival in June, where we will be showcasing how St George's will always:
Be CREATIVE
Be PROFICIENT
Be REFLECTIVE
and rightfully proud of our achievements to boot!