St George's strummers!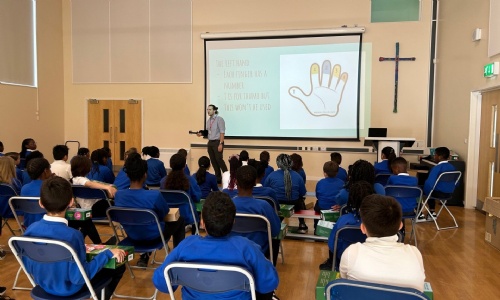 Year 4 and Year 5 started their Ukulele workshops this week!
This week, Mr Hill, a music teacher from Deptford Green Secondary School, came to St George's to lead a ukulele workshop for children in Year 4 and Year 5.
We learnt how to hold the ukulele, how to strum and how to play two chords.
Adding singing to the mix, we also learnt how to play and sing the song 'Put the Lime in the Coconut'!
We will be continuing our workshops after half term, leading up to our St George's Festival of Arts on Thursday 29th June. Some Year 4 and Year 5 pupils will perform with their ukuleles at the festival, as well as other drama & dance performances & art displays. Look out for further details after half term!