Stop the press - it's printing time!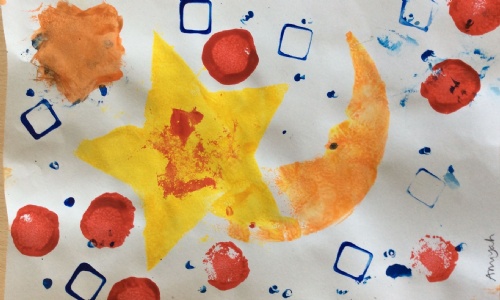 Jemison class have used a range of artistic printing techniques to create stellar designs!
Our vision for Art at St George's is:
Be creative
Be proficient
Be reflective
In Year 1, we have been building on our work from last half term by using paint and primary colours in a different way. We explored how different everyday items can create different effects when printed; painted then pressed onto paper. The class explored how dragging and twisting shapes changes the marks made and how the same print gets lighter the more it is used. We learned 'over-printing' by layering different colours (lightest first) and shapes.
Once we were proficient with simple printing and over-printing, the class learned how to work with a stencil, using a sponge for an even stipple effect. Our stencils were inspired by 'Look up', our core text which highlights the life of Astronaut Mae Jemison, our class namesake! Each child created a space themed picture using a mix of stencils and other printing items. Take a look at our fantastic designs below!