Mapping our United Kingdom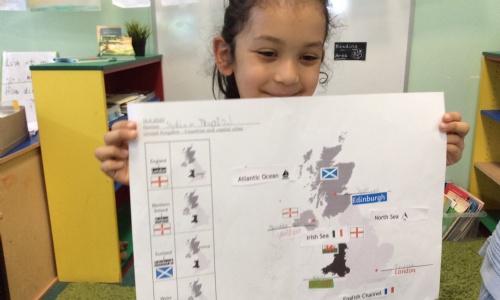 Year 1 have been curious to learn about the geography of our home - The United Kingdom!
Our vision for Geography is:
Be an explorer
Be global
Be outdoors
This half term, we are building on our prior knowledge of the world - continents and oceans - and focusing a little closer to home. Our class has learned that the UK has 4 countries that have distinctive features and flags. We named and located the capital city of each country, which is often the biggest and most important city where decisions are made; we live in the capital city of England - London! Finally, we were able to name the 4 seas around our United Kingdom - the North Sea, the English Channel, The Irish Sea and the Atlantic Ocean.
Year 1 located the UK on a globe and world map and have been using Google maps to zoom and in and out to further understand the location and position of each country in the UK. They have been making maps and adding more knowledge to them each week to gain a fuller picture of our islands.