Spinnaker Trust Return!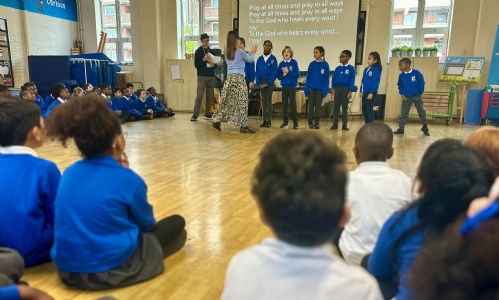 This Tuesday, we had our half-termly visit from Spinnaker Trust as they led our worship.
At St George's, our culture statement says:
We are together.
Part of our extended family is Spinnaker Trust, who lead worship times for our community once a term. This week, they provided their usual wonderful singing, which we all enjoyed.
We had a good time playing 'Telephone', where pupils had to pass a message through whispers. The confused messages which came at the end of the line had the whole school laughing! It reminded us that it is often hard to communicate thoughts and feelings and harder still to understand them. This led us to discuss prayer and how it is a way Christians communicate to their God.
Check out how we got on in the pictures below to see the fun we had.